<![if !vml]>
<![endif]>

Lytec 2007 started shipping on Dec 8th, 2006, due to the delay in shipping, Pre-Se has extended the deadline for taking advantage of their upgrade discounts until Feb 16th, 2007.
The discounts are available for upgrading from 2005 & 2006 to 2007 only. For older versions of Lytec Contact us for the lowest cost to Upgrade.
Pre-se (Lytec) has published a letter on the new NPI requirements. Click here to View.
What is the Cost of Free
Many of our clients are using a "free" clearing house to send their insurance claims electronically. In some cases it's because an IPA uses that clearing house. "Free", that sounds great and many jump at the opportunity to "save" money. Well, just a minute, while it sounds like "free" claims is a great deal, there is a "cost". The "free" clearing house does not include critical data that allows the ERA (electronic EOB) file to be used with the Lytec ERA payment posting software. So that means manually posting payments. What is your labor cost to post the payments?
Our preferred claims clearing house, GatewayEDI, cost $99.00 a month per tax ID. They process your Primary, Secondary and paper claims and you get your ERA files that are coded with the required info to allow being used with Lytec versions that have the ERA posting software. This does require a special claim form to be used with the Lytec software and you will get ERA files from those insurance companies that supply ERA file. (click here to see list)
Penny wise and performance foolish
With the 2006 and 2007 versions of Lytec comes the requirement of insuring that your computer environment is adequate. The new Windows SQL database being used and increased Lytec features, it is of great importance that your workstations have Windows 2000 Pro or XP Pro and a minimum of 512MB of memory and it is highly recommended to have 1GB of memory. We are now recommending 2GB of memory in the PC that contains the data. If Client Server is being used, then 4GB of memory. We see a lot of practices are still not putting enough value in there billing system. We still see Windows 98 being used. This is 6 year old technology and is not as secure as newer windows versions. Unlike Lytec 2005 and earlier versions that allowed the Client/Server 5 and 10 user to work on Windows 2000 Pro and XP Pro, All 2007 Client/Server versions require Windows 2000/3 Standard or higher Server or Windows Small Business Server (R1 only). PC processor speed is becoming an issue also. Workstations should have a Pentium 4 2.4Ghz processor and 2.8Ghz is better. Servers should be 2.8Ghz minimum and 3Ghz or higher better. PCs and memory costs are getting lower and the increased performance with result in more productive staff time. Lytec has not been certified on Windows Vista as of 01/01/2007 and is only being tested on the business version of Vista.
Midmark Spirometry and ECG systems are imbedded in the Medinotes e
software. We now offer these products along with Midmark's ECG Holter Monitor at great prices.
Date Security and Recoverability Issues
There are a number of data integrity problems in most Medical Offices we visit. Common problems include improper or no Backups, outdated Virus software, missing Spyware, Spam and Anti-Popup software. It is Very Important to do data backup every day that work is performed. It is especially important when using the Appointment Scheduler.
Also, we find that users do not have the Lytec Audit Trail. The audit trail serves to monitor staff activities, assists in data recovery and is a HIPAA requirement. Your usage of these items makes business


Improving Office Efficiency
We hear, all too frequently, that "we are waiting for the technology to mature". Based on my experience in a number of fields, this is an infinite process. Hardware and software will never stop improving. To wait until it is all done, means it will never get done. Computers and software like Electronic Patient Records (EPR) have been offering significant opportunities to enhance the quality of patient care while reducing charting time and cost. Whether you choose just charge capture or take advantage of the amazing things that you can do with an EPR. You really should review the products that we have chosen to offer our clients.
Electronic Medical Records
If you are thinking of taking advantage of the benefits in using Electronic Patient Records (EPR or EMR), check out www.medrecinst.com/conferences and click on "The EMR Road Show". If you attend one of the other shows and/or you buy something at or because of these shows or this Newsletter, please ask them to send some of their profit to us in appreciation of our effort in getting you to them. (helps pay the postage). We are prepared to provide on-site presentations upon request. Contact us if you any questions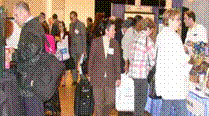 Things Commonly Missed on HCFA Claims

When printing Medicare claims there are a number items they want printed on the HCFA forms. This is true whether you are still using paper claims or doing it Electronically. Lytec's method of printing Medicare claims requires special care. One of the most confusing entry items is the choice of "Insurance Type" in the Primary and Secondary insurance entry in the Patients file.
Medicare in the Primary section is always "Non-Group".
In the Secondary section you must use one of the following:
For Medicaid or Medical use Medicaid
For Medigap Insurances use Medigap.
For "ALL" others you must use Supplemental
Theses choices put the appropriate Medicare information on the form. This also means you must use one of Lytec's Medicare lci forms when printing claims.
Another mis-used Type is the infamous "Medicare Secondary", This is Medicare "as" the Secondary.
Starting a short time ago, Medicare has required Hospital Admission Date on claims having hospital charges. This is entered in the Hospitalization From Date. You will find the entry in the Claim Information/More Information section of the Patient file. You can also find it for a one time entry in the Billing Options (F8) while entry the Charges. Press F8, then click on Billing Information then More Information
Custom Reports
We have recently acquired a great asset. This programmer has created for our clients some valuable reports not currently available directly from the Lytec software. Depending on your requirements, turn around time as been less then 30 days. Most recently we created a line item payment and balance report with an option to export the results to Excel. If you wish a quote on a report, send us detailed information on the report and how you would like the output formatted
Backing up (We are continuing to get calls about recovering lost data and "No Backups or bad ones". Many Lytec users are using hardware support people that do not understand the requirement for Lytec backups, do not educate their clients on the importance of backing up, do not know the requirements prescribed by HIPAA or just recommend bad backup practices. If you are not sure of the backups you are doing, please contact us.)
If you have Lytec that has the Backup option, you have a number of options. Per Lytec, their backup creates a Zipped file of everything in the Practice folder. This is good and bad. Good in that you can place important items like custom forms, DDF files and other Lytec items that need to be backed up. Bad in that you must be sure that unwanted items like file copies, temp files or folders must be deleted or moved. This to insure maximum usage of the media chosen to backup on.
We recommend using CDR/W or DVD R/W drives, depending on the database size. In both cases the cost of the media is small and the backup usually takes a small amount of time.
We also recommend using BackupMyPC by Stomp. This is a low cost software that can be purchased at most stores, like Best Buy, Staples and Office Depot.
This software also auto backup. A number of our clients use in combination, Lytec's and BackupMyPC. We see a lot of offices that backup to another Hard drive. This is a bad practice. We have also seen the consequences of doing this. The cost of installing a CDR/W or DVDR/W is small these days. With removable media you get the comfort of having off-site backups and HIPAA likes it too. We offer Internet backup services. Check our website for info.
Data Integrity and Speed
The cost to improve the speed and saving your data files from destruction has come down a lot over the past few years. Adding a RAID controller is an inexpensive way to increase the speed of your current server and will help reduce the possibility of data loss and staff time loss by saving the data over 3 or more drives (RAID 5). In a RAID system, if one of the drives crashes (before their usual 5 year life cycle) the others know the missing data and continue to work. This is becoming more important due to HIPAA and in the increased usage of electronic Appointments and Patient Records (EPR). Also, as a result of client testing, it has become apparent the PC memory is "very" important in increasing processing speed. Since memory is inexpensive these days, we are now recommending 512MB minimum and 1GB much better. Current pricing for 1GB is between $80.00 and $120.00 for name brand memory.
System Upgrades (we are a Dell Solutions Provider)
We became one due to a study that our staff did on their own. They found that our clients that had Dell PCs rarely called us with problems. We now offer Dells at our cost. We do this because it helps keep our staffing cost down. Of course we are not all that magnanimous because the profit margins are very small these days anyways. This makes it very easy for us to offer top of the line systems that are valuable to our clients. Please call us with your requirements. Depending on your needs and location we can offer installation, setup and data transfer.
Instant Medical History (IMH)
Instant Medical History is patient interview software that organizes patient concerns and enables physicians to manage patient encounters more efficiently while improving charting automatically.
Instant Medical History gathers complete present illness and past medical histories before the encounter. Patients respond to multiple choice questions that branch based on their responses. These questions are mapped to the objects used in Charting Plus and can be directly imported into the patients note, requiring much less time and effort for the clinical staff. Once the information has been imported into the system it can be reviewed with the patient for accuracy before moving on to the physical exam.
Enabling the patient to enter the data necessary to populate the subjective portion of the medical record makes the time spent in the encounter more efficient and enhances commu­nication. Both the patient and the doctor are focused on the health concerns presented at the start of the encounter.
Instant Medical History software has a number of benefits for physicians.
More efficient patient interviews
Additional revenue from treating more patients
Dictation and Transcription savings
Improved documentation for coding and audit defense
Accurate/reliable information provides a base for better care
Patient feels more involved in their care
Return on Investment
Instant Medical History has a powerful impact on the economics of a practice. Seeing more patients, reducing expenses, and coding appro­priately all contribute dramatically to the profitability of physicians.
Assumptions:
Physicians are seeing 25 patient visits per day
Physicians are under-coding their visits by one level due to lack of documentation
Physicians are currently employing dictation of records as a part of their workflow
Using these assumptions, projected cost savings from Instant Medical History™ (IMH)
are as follows:
Documentation Savings
When patients use IMH to enter their own medical history, the docu­mentation is completed for the subjective note before the exam begins. Since two thirds or more of a medical record is the history, having it complete saves time. 4 minutes saved in documentation time per patient X 25 patients per day results in 100 minutes saved. At 15 min­utes per appointment, this would increase productivity by 6 visits per day. At 4 days worked per week per physician this would be 24 visits per week, or about 100 extra visits per month. Using IMH the physician can spend all of his time serving patients. At $50 per visit, the net increase would be worth $5000 per month per physician.
Transcription Reduction
Dictation costs per physician were estimated at $2000 per physician per month. Since using Instant Medical History™ eliminates about 60% of dictation, the savings would be about $1200 per physician per month.
Getting Paid for Work Done
Under-coding visits costs about $10 per visit. Recovering this lost rev­enue would result in $250 per physician per day, or $1000 per 4 day week, or $4000 per physician per month.
kk
(more being added to this issue)