Technology Partners
iPatientCare (MCS) has entered into partnerships with some of today's leading information and technology companies. Below is a list of their partners and the ways in which they're working together to change the face of healthcare information systems.


SureScripts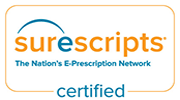 SureScripts is the company that manages the behind-the-scenes network that makes provider to pharmacy exchange possible. Similar to the network that links Automated Teller Machines (ATMs) to banks, the SureScripts electronic prescribing network links the computer at doctor's office to computers at the nation's largest network of pharmacies.

MCS' connection to the SureScripts network comes as the result of a significant certification process to ensure that it meets the standards of connecting. As a result, we are pleased to say that MCS have been recognized as a SureScripts Certified Solution Provider™.
For more information go to:http:// www.surescripts.com




LabCorp


LabCorp operates a sophisticated laboratory network, with corporate headquarters in Burlington, NC, and over 28,000 employees worldwide. Our 220,000 clients include physician offices, hospitals, managed care organizations, and biotechnology and pharmaceutical companies. Laboratory Corporation of America Holdings is listed on the New York Stock Exchange (NYSE) under ticker symbol LH.
For more information go to:https://www.labcorp.com/




Quest Diagnostics

Quest Diagnostics offers the most extensive clinical testing network in the United States, operating laboratories in most major metropolitan areas, as well as in Mexico, the United Kingdom and, as of 2008, in the growing market in India.
For More information go to:http://www.questdiagnostics.com




Bio-Reference Laboratories, Inc.

BRLI, is a multi-faceted Health Services and Information Company as well as the largest regional clinical laboratory in the North East United States. It has major market position in physician offices, industry, nursing homes and correctional institutions. Its toxicology division performs employee drug testing for major corporations nationwide, as well as drug treatment centers and psychiatric hospitals.
For more information go to:http://bioreference.com




Microsoft Solution Provider

At Microsoft, we're motivated and inspired every day by how our customers use our software to find creative solutions to business problems, develop breakthrough ideas, and stay connected to what's most important to them. We run our business in much the same way, and believe our seven core business units offer the greatest potential to serve our customers in the coming decade.
For more information go to:http://www.microsoft.com




Fujitsu


Fujitsu is a leading provider of customer-focused information technology and communications solutions for the global marketplace. Pace-setting device technologies, highly reliable computing and telecommunications platforms, and a worldwide corps of systems and services experts uniquely position us to deliver comprehensive solutions that open up infinite possibilities for our customers' success.
For more information go to:http://www.fujitsu.com




Palm Inc.

Palm Inc. and MCS are working together to provide technology solutions required to offer complete mobile solutions to enterprise customers. The combination of Palm's handheld leadership and MCS' leading handheld synchronization and management software creates a strong alliance that supports multiple PDA, devices, and cell phones.
For more information go to:http://applications.palmsource.com/Software/Solutions.asp?PCID=27&PSCID=141&offset=220




Extended Systems

Adherence to a proven strategy is critical to future success. For more than 18 years, Extended Systems has provided enterprise organizations worldwide with industry-leading technology solutions. Sound business practices, combined with an understanding of corporate IT organizations and the needs of end users, have enabled us to build a highly successful business.
For more information go to:http://www.extendedsystems.com




Midmark® Diagnostics Group


Midmark ® Diagnostics Group is a leading medical technology innovator that offers digital diagnostic medical devices through its IQmark ™ product line. MCS EHR accepts vitals signs, EKG, spirometry , and holter outputs directly into its EHR, thus saving numerous hours of clinicians time otherwise wasted in entering data, and also reduces errors in transferring data from paper to computers.
For more information go to:http://www.midmarkdiagnostics.com




WelchAllyn


Welch Allyn , a leading manufacturer of frontline medical products and solutions, to bring you an innovative way to electronically capture patient vital signs data while improving productivity and lowering costs. This powerful connectivity option interfaces MCS EHR with the Welch Allyn devices for capturing Vital Signs, ECG, Spirometry , and Holter device to create an efficient, reliable method for providers to enter patient vitals into the iPatientCare software—saving valuable staff time and eliminating manual entry risks.
For more information go to:http://www.welchallyn.com/




Navicure

Navicure is a leading Internet-based medical claims clearinghouse that helps physician practices increase profitability through improved claims reimbursement and staff productivity. All solutions are supported by Navicure's unique 3 Ring™ Client Service.
For more information go to:http://www.navicure.com/




Primetime Medical Software


Primetime Medical Software has been compiling the ultimate medical knowledgebase for computerized patient interviewing. Designed originally by physicians for immediate use in their facilities, the knowledgebase contains questionnaires for more than four thousand distinct patient complaints, including more than 55 self-rating scales from the archives of medical literature. The knowledgebase runs the gamut from psychiatric scales to symptom specific questionnaires, and customized content can be added.
For more information go to:http://www.medicalhistory.com




Gateway EDI


Gateway EDI is the premier electronic data interchange (EDI) provider serving today's health care industry. Gateway EDI as one of the nation's fastest growing health care EDI providers, Gateway EDI offers simple solutions to complex electronic connectivity challenges. Our technology improves your efficiency by automating key business functions. From standard claims processing and status reports to sophisticated technology for flagging rejected claims.
For more information go to:http://www.gatewayedi.com